Farnborough 2018: UK coastguard lauds S-92 search-and-rescue helo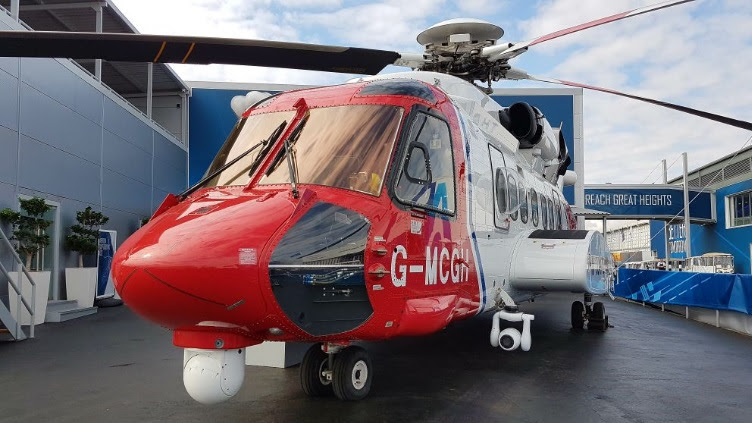 The UK Maritime and Coastguard Agency (MCA) has praised the increased capability and reliability that the Sikorsky S-92 search-and-rescue (SAR) helicopter has provided since it replaced the military's Westland Sea Kings in 2015.
Speaking at the Farnborough International Airshow on 18 July, agency officials and helicopter crews highlighted the improvements that the 12 S-92s, operated by Bristow Helicopters Limited (BHL), have brought to the United Kingdom for maritime and overland airborne SAR.
"There is no fall back any longer, now that the military has gone from search and rescue. The MCA is the largest operator of aviation in the UK outside of the Ministry of Defence," Damian Oliver, MCA aviation programme director, said, adding; "The S-92 is showing close to 100% availability at each of its [six] operating locations. It has a 250 n mile radius that takes it out to the edge of the UK's rescue zone, and its 165 kt top speed leaves the Sea King for dust."
The MCA has operated the S-92 since 2007, but it was in April 2015 that the type was tasked along with the AgustaWestland AW189 to fully take on the role of airborne SAR from the Royal Air Force (RAF) and Royal Navy (RN). BHL provides the service with S-92s located at Stornoway, Sumburgh, Newquay, Caernarfon, Humberside, and Inverness; and AW189s at Lee-on-Solent, Prestwick, St Athan, Inverness, and Manston (two helicopters at each location, with two more used for training). Since April 2015, the MCA has conducted 4,500 SAR missions using its S-92s. As Oliver noted, while the helicopters are flown for the MCA, some 52% of the missions are overland rather than maritime rescues.